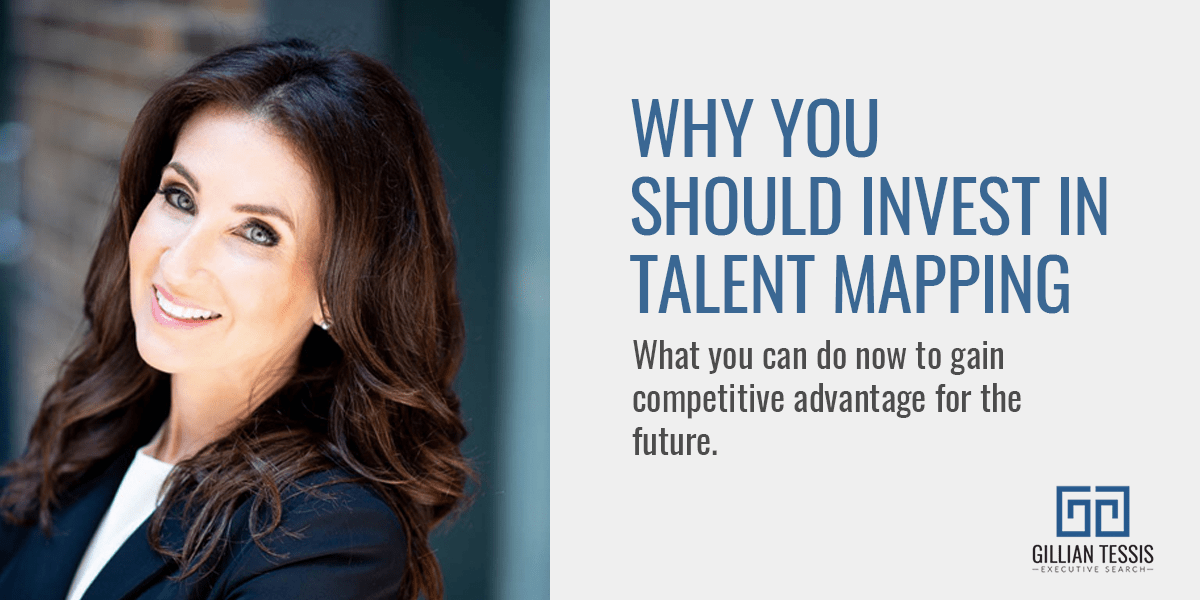 Invest in your talent strategy
now
in order to gain competitive advantage for the future.
You may be thinking this isn't the right time to bring on a new hire. With budgets, economies and quarantine policies in flux, you may not be ready to make a commitment, not only to a new employee, but also the time and money to invest in the recruitment and onboarding process.
While it may not be the ideal landscape for expanding your team, it's always a good time to invest in talent mapping. 
What is talent mapping? This exercise is typically conducted by an executive search partner, or an HR professional. It's a process of researching the talent landscape, determining who's out there, what skills they possess, what their compensation expectations are, and what their interest/availability is to make a move. With talent mapping, you get a broad view of the talent pool. So not only are you ready with qualified candidates when the time is right, but you'll also have a higher likelihood of closing the deal as you've essentially warmed up leads and have a better understanding of what they're looking for.
It can also act as a benchmark for your existing team and for succession planning purposes.  Are they being compensated at market value? Are there prospects out there that are better qualified to do the same job? Is it a buyer or seller's market right now?
"Intentional and strategic talent mapping — like the kind Gillian offers — will allow you to proactively identify new roles to drive your business strategy," says Human Resources consultant Lesley Bell. "It ensures all of your questions are answered upfront, and empowers you to make the right hire at the right time. And when employees are in roles that are a great fit for both them and the business, they are more likely to remain engaged and stay with you for the long term."
I've conducted talent mapping a number of times and can attest to its efficacy. I'll share one great example:
A few years ago I worked with a corporate client who was looking to hire a new executive in a senior legal capacity. The focus of this role was relatively niche but gaining in popularity. When I first met with them, they had an idea of what they were looking for but weren't sure if this profile even existed in Canada. They also didn't know what the appropriate compensation would be in order to attract the right candidate. 
While I hadn't led a search in this specific area, I did some research in advance of the meeting which showed that there were many people who seemed to have the skills they were looking for, albeit with a wide range of experience/seniority and (likely) compensation expectations. 
Given my client's uncertainty about the role, I proposed that we engage in a talent mapping research project which would involve two phases:
Phase 1
Identification and outreach to four specifically outlined groups of lawyers (mutually agreed upon in advance) that we felt would likely generate the most relevant prospective candidates. I anticipated this would generate approximately 100 individuals.
Phase 2
Outreach to the top 20–25 potential candidates in order to gain a better understanding of their experience/compensation/interest in making a move. 
The timeline for the project was four to five weeks with specific deliverables, including:
A detailed interim update after the first two weeks where together we would determine the top potential candidates that they were most interested in and those they would like me to connect with; and
A final report that included both a snapshot of the potential candidates that I had reached out to (including their interest level in the role), as well as a supplementary document that provided additional information on each of the candidates. This included those that expressed interest in learning more about the role and those that may have not been interested but were still open to a conversation.
My client was impressed with the caliber of prospects I identified and connected with and as such, decided to move to the executive search phase. Within a very swift timeline, I re-approached the top six prospects and disclosed my client's name. The potential candidates were all interested in further discussions so I initiated the interview assessment phase of the search and very soon after my client was able to make a hiring decision.
This example shows how the upfront investment in talent mapping provided returns for my client in both better talent and faster turnaround in recruiting (which also saved time and money for their business).
Talent mapping arms you with valuable intelligence to inform your current talent management strategies as well as future hires, and at a reduced financial (and emotional) cost. Some recruiters (like myself), will even roll it into a future search fee. In my case, if a client engages me to perform a talent mapping exercise, then subsequently hires me to recruit for a role (or multiple roles), I'll deduct the cost of the talent mapping project from the search fee. 
If you'd like to learn more about talent mapping, or set up a free one-hour consultation, please feel free to connect with me at gillian@gilliantessis.com