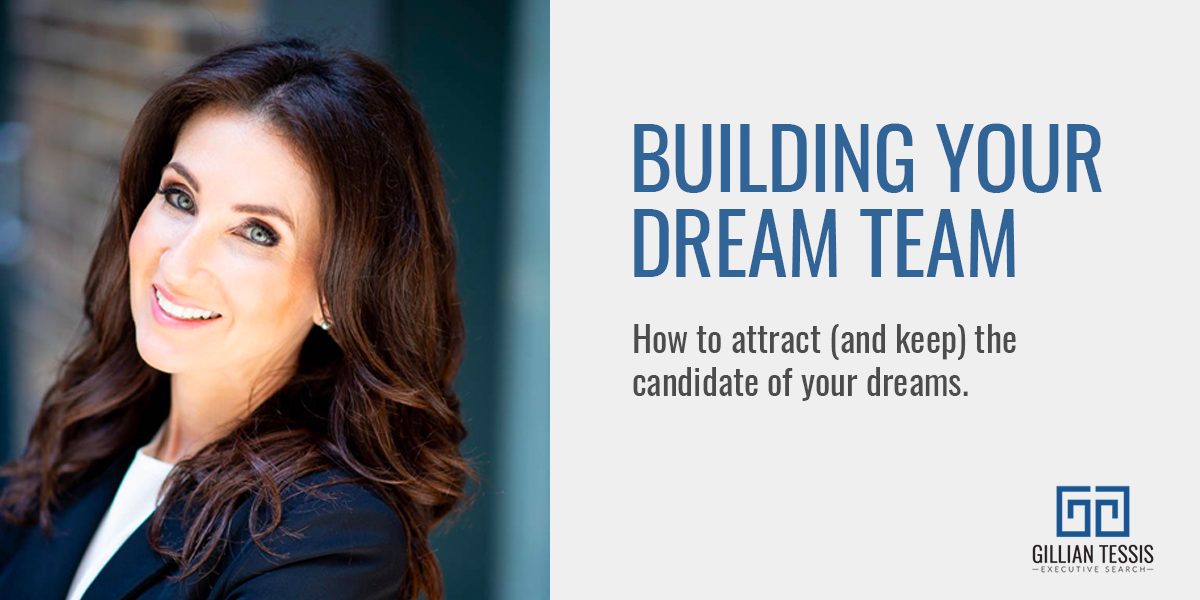 How to attract (and keep) the candidate of your dreams.
Throughout my career, I've made many professional matches. I've worked with executives in a wide variety of industries, recruiting for many different roles, and in both strong and weak economies (like the one we're currently experiencing). 
Some would say recruiting is a lot like developing personal relationships. And similar to that realm, sometimes we might feel someone is out of our league. But the truth is, you don't know until you try.
A few years ago, I worked with a client who was looking to bring on a new senior executive in the professional services industry. At our first meeting I shared profiles of a few individuals that I thought had relevant backgrounds and could be a good potential fit for the role. 
My client's reaction caught me off guard. After reviewing one of the profiles, they said, "Yes, that person would be perfect but we would never be able to attract her." I told them  it was worth a shot. And then I got to work.
Part of what makes a good recruiter (and entrepreneur) is someone who has the ambition and tenacity to pursue candidates and companies even when they may seem out of reach. It's not just about keeping an open mind, but a keen eye and strong intuition in order to make a match that lasts.
As we were coming down to the end of the search, my client had narrowed it down to two final candidates. After more interviews and reference checks, guess who they hired? The woman they thought was out of the company's league. 
As it turns out, that candidate was interested in making a move for various reasons that no one could have ever expected. While she had been at one company for the majority of her career, enjoyed good career progression and was very well regarded by her organization, she was intrigued by my pitch. That initial connection allowed us to form a relationship. 
What's the lesson? Don't make any assumptions. Don't sell your company short and assume that because someone has worked somewhere for a long time or has been working for a bigger or more influential company that they wouldn't be interested in what you have to offer. You never know what's going on behind the scenes. There are a multitude of reasons why someone you thought you could never attract would be interested in the opportunity you're offering. 
Over the course of my career as an executive recruiter, I've learned that you don't know what someone really wants until you get to know them. Just looking at their resume or their LinkedIn profile isn't enough. By working with an experienced executive search partner, you get to not only leverage their network, but their ability to seek out and engage the right people and learn what candidates are really looking for.
I've also learned that it never hurts to make the call. At best, the potential candidate will be interested in the role and at worst, they become a referral source for other terrific candidates or possibly a candidate for a future search.  
This is exceptionally relevant in the current climate. I recently spoke to a few business leaders who felt that the timing wasn't right to start recruiting for a new role, as most candidates would be skittish about making a move in this unstable environment. While this may hold true for some, there are others who have been looking to make a move since before the lockdown, and are open to new opportunities. In some cases these conversations have become even more open and informative as most people are working from home and have more flexibility in their workday.
David Cooper, Senior Vice President, Human Resources at goeasy Ltd., is undeterred by the pandemic and is still looking to bring on exceptional talent. The financial services company is currently hiring for a variety of senior leadership roles, and he knows that there are different facets of the organization that will appeal to different types of candidates. Despite the concerns that come with COVID-19, growth is still an attractive factor, noting that by joining goeasy "candidates are moving forward with leadership roles that will position them for growth."
Stability is also a big attraction for many prospective executives. Cooper explains that goeasy elected to not lay off any team members since the beginning of the pandemic, showing those that may be interested in employment what kind of company they are. Plus, the fact that they didn't lay off anyone will give them "a competitive advantage with all of our team members and engaged and motivated during business re-emergence ."
Doug Nathanson, Senior Vice President, General Counsel and Corporate Secretary at Empire Company Limited, leans into his business's history to attract top talent. "This Company has been around for 110 years. We have Atlantic roots and have established a trust factor as a family owned company. This company cares. It's a nice place to work. People here really care about their communities and local causes. It's big but it has character."
While hiring in the pandemic has definitely been different, he's impressed with how the company has continued to attract quality employees. All interviews are being conducted over video calls, with HR onboarding new employees with voice calls, video chats and a "little more hand-holding than usual." (Want to learn more about onboarding during the pandemic? I've got more to say on that.)
The bottom line is that there is never a right or wrong time for recruiting, it's all about finding the right person and attracting them with the right incentives.