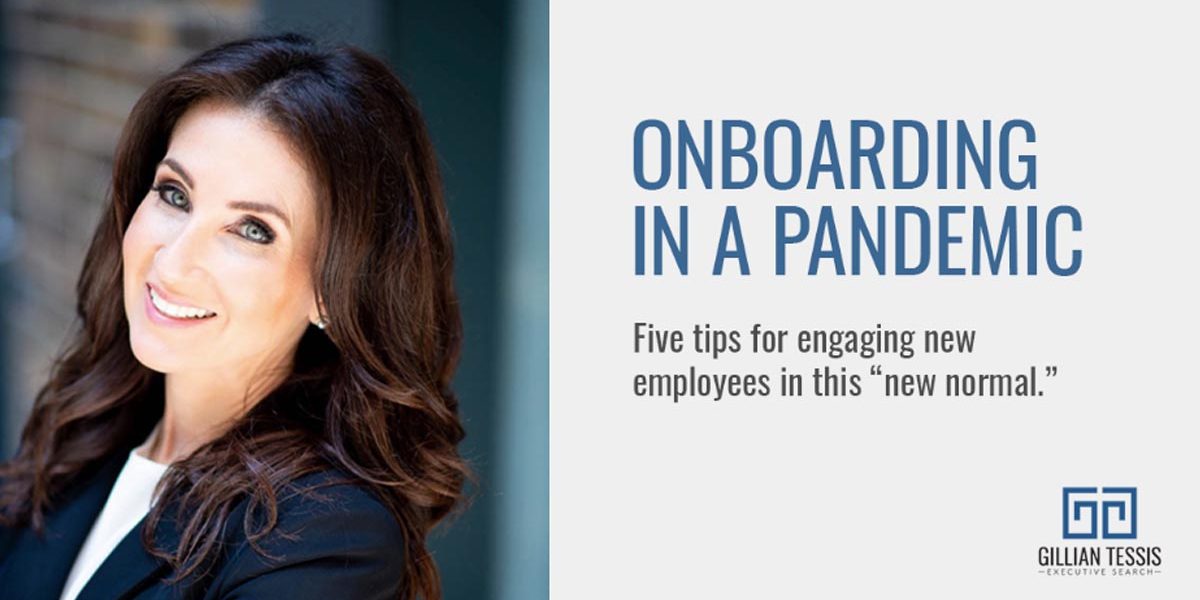 Five tips for engaging new employees in this "new normal."
Starting a new role can be stressful for both employees and employers, even in the best of times. In the current environment, there are added considerations to keep in mind. While the situation may be different, there are many ways to ensure that it is equally successful for all parties.
I recently had the opportunity to place a new hire in the role of Director of Technical Procurement for Welded Tube of Canada Group of Companies (Welded Tube), a privately held Canadian manufacturing company headquartered in Concord, Ontario. Before COVID-19, the organization didn't have any experience with remote work arrangements, so onboarding a new employee without in-person training was going to be a challenge. 
I spoke with Chris Forbes, Vice President, Human Resources at Welded Tube to get his insights on rising to the challenge of onboarding during the pandemic. Even pre-pandemic, Forbes said that "providing a structured itinerary for the first couple of weeks [is] very helpful." However, moving to a completely remote work environment makes it even more important, especially when it comes to building relationships with key stakeholders. According to Forbes, "it's almost like a security blanket, and even in normal times, it can alleviate some of the anxiety of starting a new role. In this pandemic environment, it becomes critical." 
In addition, the company was able to optimize the onboarding process by adopting the following components: 
Facilitating introductions 
Even though it wasn't possible to make in-person introductions, the team set up  introductory Zoom meetings so that all key players could meet, and see, the new hire, including the CEO.
Creating a schedule 
The new hire was presented with a schedule for the week so he could plan his time accordingly, and understand the pace and needs of the company right away. This also allowed him to plan his own time as far as reading the background materials, starting projects and taking breaks.
Setting clear expectations
From his first day, the new hire understood what his priorities were as far as deliverables for the week, month and beyond. It's easy to feel lost when starting a new role, and even more so, when that role is completely remote. By setting clear expectations, every employee knows exactly what they need to be working on.
Providing technical tools and support 
This was the aspect that the new employee was most worried about and the company exceeded his expectations. He received all the needed technology, including monitors, keyboard and access to all the required systems and software.
Sending background materials in advance
My client took the initiative to send the employee plenty of background information about the company, including policies, procedures, org charts and more. The employee was able to get up to speed and know names and acronyms from day one. 
For manufacturing businesses like Welded Tube, it's a major shift to adapt their team and processes to a virtual world but they've done a tremendous job of changing with the times.
Large professional organizations, like banks and law firms, have historically been quicker to adopt flexible work arrangements. However, they're still faced with new challenges as they deal with large teams that span a variety of roles and geographies. In particular, many of them have intensive student programs. For a recruit that may have never had a "corporate" job, starting a summer position in a virtual environment can be laden with issues. I spoke with James Spearing, Vice President, Global Talent Acquisition at Scotiabank about his experience and what the organization has done to ensure a smooth transition to an online program.
"Starting early in March, we had cross-functional teams (IT, HR, etc.) working together to redesign the onboarding process. We built out a program that is equally robust, with multi-day programming, extending over one month for our interns. It includes a combination of self-study, live Q&A and discussions with senior-level management."
James reiterated the importance of setting expectations, as well as providing a high level of transparency. He said it's critical that organizations keep all employees (and students) well-informed when it comes to the company's approach to COVID-19, how they intend to deal with customers and other stakeholders, and what their approach will be to office vs. remote work in the future.
While we all learn to navigate and manage employees in these uncertain times, these insights are invaluable. There are still roles to fill and teams to engage with, so take the time upfront to set your employees up for success, whether they're working across the room or across the globe.