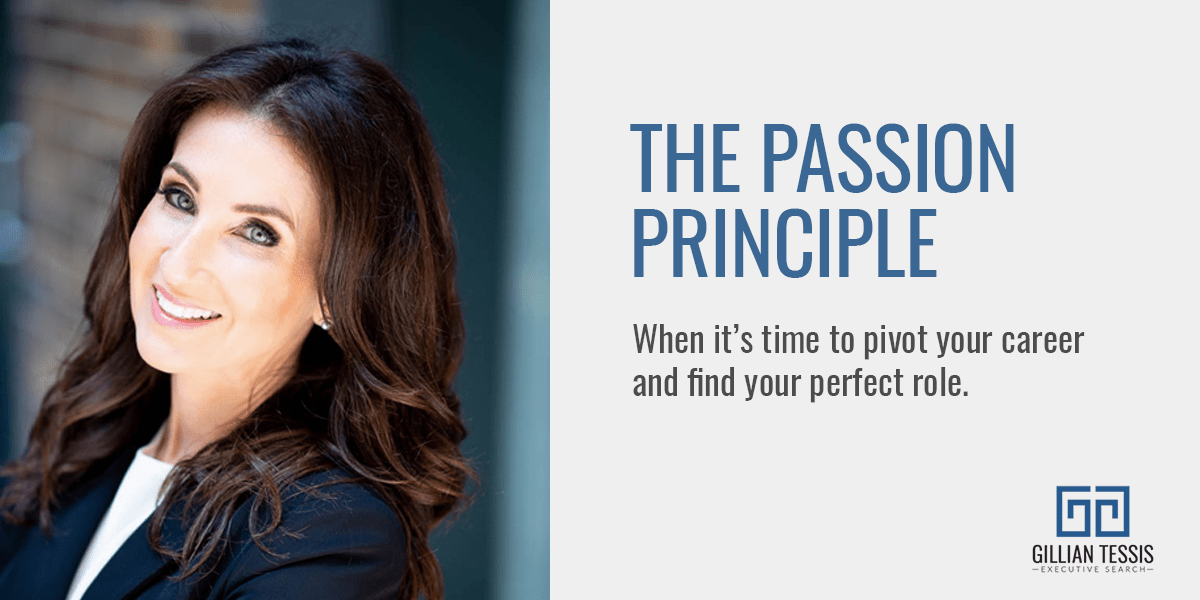 When it's time to pivot your career and find your perfect role.
Most people reach a point in their professional lives where they hit a wall and question whether they've gone down the right path. And sometimes, that wall is put there through circumstances such as a layoff, economic downturn, relocation or other factor.
In any case, many of us have come to that fork in the road and decide (by choice, or otherwise) to pivot our career. And when faced with that decision, many use it as an invitation to find their true passion.
As we evolve professionally, we learn about ourselves and what we like, what we're good at and what really makes us tick. For some, it happens early on, and for others, it takes years (or external forces) to examine, or re-examine, our trajectory and decide where we want to go next.
In these COVID days, this has become top of mind for many senior leaders. Faced with new work setups (or no work setup) and more time to think, they're turning these challenging times into an opportunity to carve a new path.
While it can be scary to take that leap, it can also be very rewarding. I know because I did it.
From as early as I can remember, I wanted to be a lawyer. My dad was a lawyer (a litigator and an expert in his field). He worked harder than anyone I knew but he truly loved what he did. He was so passionate about the law, his cases, his clients, and his colleagues. He often talked about work at the dinner table, inspiring us all with his enthusiasm.
I looked up to my dad and wanted to follow in his footsteps. I worked at his law office part-time through high school and earned the marks I needed in undergrad to get into law school. Then I faced my first real obstacle: it took three attempts to achieve an acceptable LSAT score, but I was determined and I made it happen.
I did well in law school and landed a second year summer job at a top Bay Street business law firm where I also articled. I then joined one of Canada's leading business law firms as a first year Associate.
Three years of law school, plus one year of articling, plus four months of the Bar Admission course and exams later, I became a lawyer — and guess what? I was miserable! Not only did I not like the job, I was so scared to tell my father. I didn't want to disappoint him and I was worried that he wouldn't understand how I could be so unhappy in a profession that he loved so much.
While faced with this conundrum, a friend suggested I speak to an executive search firm he was working with as they had expressed interest in adding a lawyer to their team. While I'd heard of legal recruiting, I'd never heard of an executive search firm. I started doing research and became intrigued by the industry. The role was akin to a corporate matchmaker. I've always been a great connector and always loved making "matches." I'd even set up three marriages, including two of my best friends! (I'm happy to report they are both still married more than 20 years later, so clearly, I had a knack for it.) 
After a few rounds of interviews and a visit to their office, I was offered the role and nervously, yet excitedly accepted it. While I would be changing gears and leaving my law career behind, I was excited to take a chance on this seemingly very well-matched career. The next step was to tell my dad. I was nervous but he was genuinely happy that I had found something that I was excited about and encouraged me to pursue this new path. So I took a chance. I told myself that if it didn't work out for whatever reason, I could always go back to law.
Fast forward 20 years, and I've never looked back. I learned quickly that my legal training was a great foundation for executive search. The reading, writing, analytical, research, communication and organizational skills that I learned in law school were exactly what I needed for this new career.
I feel very grateful that I was able to find a career early on that I love and that I'm still so passionate about. I recognize that getting paid to do something you love is not something everyone finds. It may sound crazy, but when I am in my zone at work, I feel a complete sense of calm. Maybe this is how my dad felt? I hope so.
The relationship you have with your job is one of the most important ones in your life. As an Executive Search Consultant, I take pride in making strategic matches between my clients and prospective candidates — connecting my clients with outstanding prospects and connecting candidates to amazing opportunities that they'll love and hopefully, become as passionate about as I have become about mine.
As I've reflected on my experience and those I've worked with, I've found there are a few ways to effectively pivot your career:
Same skills, different role
When we're naturally inclined with certain skills, we often assume that we're only suited for certain roles. For example, if you aced mathematics you may think you're destined to be an actuary or an accountant. But often those same analytical skills are transferable across many types of roles such as Marketing Analytics, Research and Operations.
I spoke with Julie Denton, Chief People Officer, RECIPE Unlimited Corporation, who leveraged her people skills to make a significant, but very satisfying leap. After starting her career in consulting, where she supported many companies across a broad spectrum of issues, she found herself leaning into HR-related work. "I took the experience and training I had and focused on one thing I was passionate about, which was the people" says Julie.
Same role, new environment
Another way to find your passion is to change your environment. That could mean trying a totally different industry. Or maybe it involves a bigger move to a new city or country. Amar Sidhu took a major leap and will soon have done both! Having spent most of his career in the financial services industry, he made a big decision over seven years ago to try something totally different and take on a senior role at ADP, a global provider of human capital management solutions. Currently as Senior Vice President, Service Delivery and Production, he is more challenged and passionate than ever. In his view, "when you love your job, you naturally produce more. You enhance your own and others' performance and you bestow optimism and motivation in those around you."
Soon he'll be moving from Toronto to take on the role of General Manager in the Philippines. When he was approached about this opportunity, he was both nervous and excited as it's double the number of people he manages today, a new culture, a new continent, a very different way of life.
You don't need to love it all
Finding your passion doesn't necessarily mean you'll love everything about the role. Like finding your soulmate, there will always be the good and the bad. It's about leveraging the good stuff and accepting that the other parts are part of the package.
Rissa Revin, CEO, DAS Legal Protection Inc. (Munich Re) has experienced this firsthand. After starting her career in law, she realized that while she was passionate about litigating and conflict resolution, she did not enjoy the business development aspects that are integral to becoming a Partner in a law firm. After a number of years, she made the transition in-house and has since worked at a variety of insurance and financial services organizations including Chubb, Liberty and BMO and Munich Re Canada before assuming her current role. Law has remained the focus in all of her work, but her in-house roles have extended her experience to a breadth of specialties and included the business connectivity she finds really satisfying. She is a big believer in finding your passion: "Find the connection that is real for you…if you can't find something in it that you love — then you have to look for something new."